The New Mexico 4-H Hall of Fame was established in conjunction with 4-H's National Centennial celebration in 2002. It continued annually through 2013 and now is conducted in odd numbered years. Nominations may be submitted at any time throughout the even numbered years until the deadline established in the odd numbered year.
Hall of Fame members are selected for their impact on the lives of 4-H members through their roles as 4-H club or project leaders, fair superintendents, Advisory Board members, 4-H Foundation trustees, and former staff and faculty members of the Cooperative Extension Service. A plaque honoring the inductees is displayed in the lobby of Gerald Thomas Hall at New Mexico State University.
2023 New Mexico 4-H Hall of Fame Inductees
2023 New Mexico 4-H Hall of Fame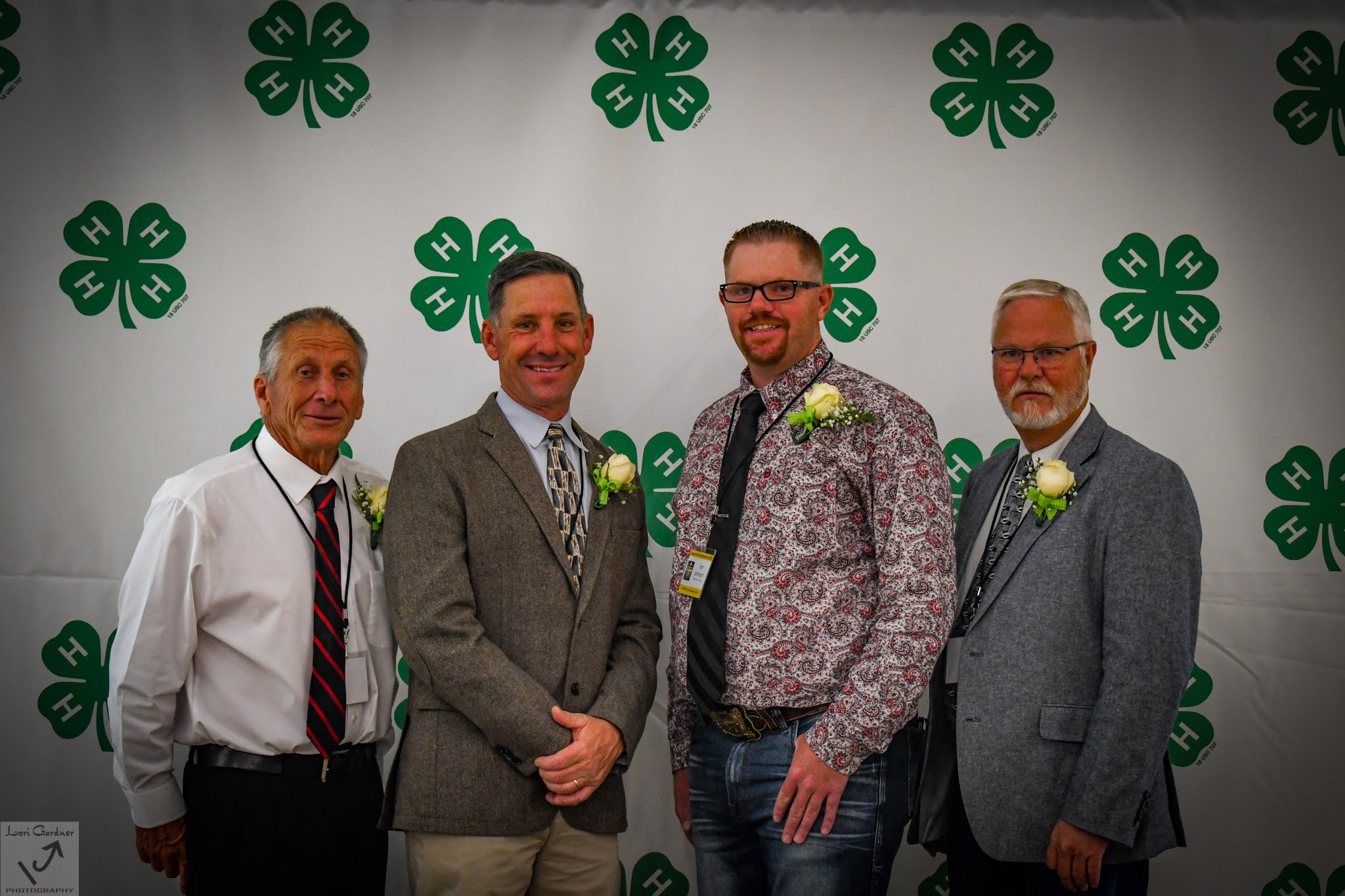 The 2023 inductees into the New Mexico 4-H Hall of Fame.
Left to Right: Michael O'Neill, Travis Brown, Lee Johnson, Bruce Hinrichs (Honorary 4-H Member)
A | B | C | D | E | F | G | H | I | J | K | L | M | N | O | P | Q | R | S | T | U | V | W | X | Y | Z
Friend and Honorary Nomination
Each year the 4-H Program recognizes those who have impacted the program through their endless contributions by awarding individuals or groups with The Friend of 4-H and the Honorary 4-H Member Awards. The recipients of these awards have been chosen from the impact they have had on the youth development in their community. The time and generosity of each recipient has been an integral part of shaping the leaders and citizens of today and the future.
A Friend of 4-H is an award given to honor an outstanding Extension employee or registered volunteer who has gone above and beyond to support the 4-H program.
The Honorary 4-H Member award recipient is a person awarded this honor is not a registered member or group in the program, however, supports the 4-H program through their generosity and care they have shown through their gifts and actions.